Why compromise? Find your perfect matte with Avon's new Perfectly Matte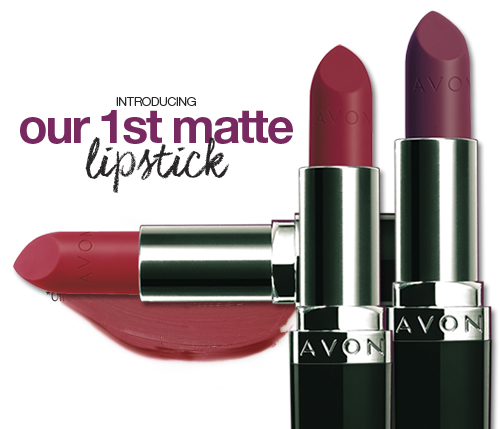 Traditional matte lipsticks tend to be either too shiny or so powdery that they cake and dry out your lips. To fix this, the Avon scientists developed an ultimate fusion of pure matte ingredients so from its formulation in the lab to its finish on your lips, Avon Perfectly Matte Lipstick strikes the perfect balance between 100% matte finish and lasting, wearable comfort with no compromises.
Keep lips defined and sculpted hour after hour – backed by the Avon True Promise.
With matte colour pigments, emollients and powders for more comfort, less dryness and a perfect, long-lasting matte finish from day to night.
Lipstick diary ...
Lipstick is the quickest way to add a lift to your look.
A little colour can go a long way.

WHICH COLOUR IS RIGHT FOR YOU?
Here are some guidelines for shades that may complement your skin tone.

If you are fair-skinned, you probably look pretty in pinks. Chances are your lips love apricots and cherries, and you could always go nude.

With light-medium skin, you can always go a bit deeper. Try rose, rich berries and auburn.

Browns, bronzes, raisins and some deep reds are flattering to medium skin tones.

If your skin tone is deep, try rich deep browns, wines, plums and even crimson. But, lipstick lovers, beware. Like hearts, there is no colour rule that can't be broken. It's really a matter of your own preference. Experiment.
Ultra Colour Lip Crayon

Draw attention with creamy true-colour that's easy to handle and glides on smoothly. It's your 2-in-1 must-have for luscious colour that looks beautiful.

Ultra Colour Rich Lipstick SPF 15

Vivid, luminous, stay-true colour feels ultra-luscious on lips, you may never switch. Conditions and moisturises for an exquisitely soft, supple feel.

Ultra Glazewear SPF 15 lipgloss

Glide on a visible burst of brilliant shine totally drenched in rich colour. Moisturises lips for an ultra-soft feel without feeling sticky or tacky.

Glimmersticks Lipliner

Line up with stay-true colour. Wear soft or bright lip colours and keep them from feathering or bleeding.

Ultra Colour Absolute Lipstick

Experience a Lipstick so rich in moisture and conditioners, it continues to condition lips even after you take it off.

Ultra Glazewear
Lipgloss SPF 15
Lip-loving shine with an all-in-one gloss.

Avon Ultra Colour Bold Lipstick
Full colour, bold lipstick, with super-pigmnented, high intensity shades. The rich colour you see on the lipstick is the same colour you see on your lips. Hydrating formula. SPF15

Ultra Shiny Tubes Lipgloss

Glossy lips for a show-stopping smile. 15ml 5

Ultra Colour Indulgence Lipstick SPF 15

True Colour Technology. Smoothing and moisturising formula. Vibrant colour Provides an ultra-smooth, creamy and silky feel.