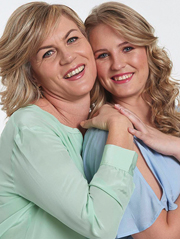 Meet one of our many successful mother and daughter teams!
"I started selling Avon as a hobby 17 years ago, and today it is still a life-changing experience. I've been able to contribute financially to my son's wedding in January this year andbuy my own designer outfit to wear to the occasion! I hope that by selling Avon, Nandie learns that nothing in life is free – to be a successful Representative you need to work hard at it every day. Most importantly, I hope that she learns if you treat your customers well, they will continue to support you."
Lindie Liebenberg, Sales Leader
"Though I have only been a Representative for a few months, I have learnt that no matter how small your business, it can grow into something amazing. My mom has always been very driven, motivated and passionate about Avon, and I want to follow in her footsteps on my own Avon journey. She is my role model."

Nandie Liebenberg, Representative
Oxford University, world renowned institution had this to say about Avon's earning opportunity
Avon representatives in South Africa with 16 months or more in the system earned enough to cover a typical household's expenditures for food, non-alcoholic beverages, clothing, shoes, and healthcare.
The representatives' income placed them in the top half of black females in their community and brought them in line with what a black South African man earns.
75% of the representatives reported that Avon had helped them achieve financial autonomy and nearly 90% said they had learned skills from Avon that could be transferred into other employment.
Respondents reported in very large numbers that working for Avon had given them confidence and social skills, as well as earning them respect from family and their community. This effect on their sense of empowerment seems to result from the supportive and gender-friendly network, as well as the formal recognition system that Avon employs to reward and inspire achievement.
The AVON Earning Opportunity
Avon has been offering women all over the world the opportunity to start their own businesses and earn extra money. With more than 6 million independent Representatives across the globe, we are one of the largest direct sellers in the world of beauty products!

• Minimal start-up costs – Sign on for only R85
• No inventory required
• Be your own boss
• Work from home
• Work your own hours
• Training and support provided

Why not you?
Why not today