Check out these amazing success stories!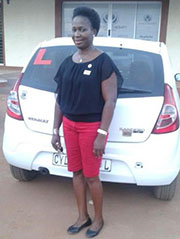 Ntuwiseni Marubini is a successful independent Sales Leader in Thoyandou, Venda which is at the heart of the Limpopo Province.
Several years ago, she was selling tomatoes door to door to make R15 a day. Her primary aim each day was to ensure that her family had a loaf of bread so there was dinner on the table each night. In a simple dress with no pockets, she would walk barefoot along the streets of her village, as she tried to find new customers. Not making headway, when someone handed her an Avon brochure and suggested our earning opportunity to her, she grabbed it with both hands.
The first six months were difficult for her but she decided to stop selling tomatoes and focus on selling Avon products and that's when she started to see her income increase rapidly. She rapidly increased her earning after her first six months with Avon, Ntuwiseni now makes enough money to have bought herself a laptop, two cars and is sending her daughters to university.
Ntuwiseni is just one of the millions of independent Representatives in the world whose lives we positively impact.
#Avon #BeautyForAPurpose