Direct-selling is increasingly being recognised as a viable earning opportunity in South Africa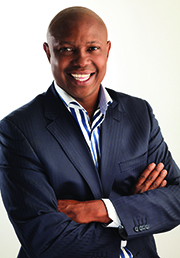 Sydney Mokwena shares his success story
For nineteen (19) years Sydney Mokwena was a teacher before he discovered direct-selling through Avon's earning opportunity. It was in 1989 that he began teaching at Letshele High School in Bushbuckridge, Mpumalanga. The experience ignited his passion for educating and developing future leaders and he thrived on it for almost two decades. In 2003 he decided to join Avon, the largest direct-selling company in the world, as an independent Representative in order to make extra income. "It was challenging at first because my friends and colleagues laughed at me for selling women's products," he says.
But he didn't let this stop him. Instead he worked harder. He took full advantage of the opportunity when Avon, introduced the Avon Sales Leadership Framework (ASLF) or Sales Leadership to the South African market. "It sounds complicated but it's really just a multi-generational direct-selling approach that encourages and rewards Avon Representatives to sell more but also to share the earning opportunity. And its supported by a great training and development programme which equips even the most introverted of individuals to become sales gurus" he says excited. Sydney explains that his background as a teacher has enabled him to fully embrace Sales Leadership because sharing knowledge and developing others is second nature to him.
In 2008 he resigned from teaching so he could focus completely on his Avon business. His hard work and commitment paid off a year later when he became only the second independent Representative in the country to achieve the status of Senior Executive Unit Leader. Not a shabby achievement for a man. The training he was continuously receiving through Sales Leadership was horning his business skills, he was ready to take on more. He established a guest house in Bushbuckridge and now also owns a courier company.
He wasn't content with just being successful however, he wanted more, he wanted to share his success. He started developing other independent Avon Representatives to reach the same level which has allowed them to buy new cars and homes. "It's an incredible feeling to be able to empower others and see them succeed," he confesses. His ability to develop others was just one of the reasons he was nominated for and received the DSA Personality of the year Award in 2011 from the Direct Selling Association.